Hi Everyone
It's been a long while since I updated my activities and outlined what's coming up over the next few months. So if you'll indulge me over the next few paragraphs I will do precisely that.
Recent Activities
 The past several months have been busy with travelling, writing, teaching and performing. Towards the end of last year I toured with the great Kenny Werner, toured in Japan, Switzerland, and taught at the Didier Lockwood school in France. At the end of the year I went to Paris to rehearse my new piece 'Counterparts' based on the writing of James Joyce (see below), and played with Pekka Pylkannen's group at Ronnie Scott's club in London.
The first part of 2013 saw me teaching and playing in the UK, Germany, and Denmark, (for the IASJ conference), and March saw the first performance of 'Counterparts,  as part of the New Music Dublin Festival. It was a big project for me, and it went very well – we had five days of rehearsal (what a luxury!), which was very helpful, as the performance went very well. We have some other performances coming up this year, (see below for details). So the past while has been full-on, the second half of this year promises to be equally busy.
Upcoming Events
Performing
September will see the first performance in 10 years of my '5 Cities' suite, that I originally wrote for Khanda and the Karnataka College of Percussion. A piece that uses elements of Irish traditional music, jazz and Indian classical music, it's always been fun to play and I'm delighted we're doing it zgain. I'll be performing with Khanda in Meeting House Square in Dublin on September 8th  - to get a taste of what it sounds like, click HERE
In the Autumn, I'll be attending the Berklee International Network Summit in Boston (my school Newpark Music Centre, is a member), and doing some teaching at the Ionian University in Greece.
I'll also be performing with Counterparts in October, as mentioned above, this is my acclaimed and innovative musical piece inspired by the music quoted in the works of James Joyce  - specifically the works written in Dublin and Paris. The piece uses text from various works both as a generator for the music, and in spoken word format as an integral part of the piece. I'm delighted to have such great musicians playing with me - Dominique Pifarély, (violin), Michael Buckley, (saxophones), Stéphane Payen, (saxophones), and Christophe Lavergne, (drums) We'll be performing at the Cork Jazz Festival on Sunday October 27th, and the Mermaid Arts Centre in Bray on the 29th. Full details can be found under 'Dates'. HERE'S a video clip from the rehearsals we did in Paris last year.
Plans for the New Year include recording a new CD (see below), performances with the great American saxophonist John O Gallagher, and a new group with a multinational line-up which will perform and record in Portugal.
Recording news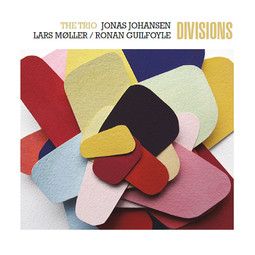 On the recording front, there are two newsworthy items. First of all I'm delighted to announce the release of 'DIVISIONS', A new CD I'm on with two great Danish musicians - the saxophonist Lars Møller and the drummer Jonas  Johansen.
The back story to this CD is that Lars and Jonas came to Ireland to study rhythm with me, in order to develop their knowledge of the new rhythmic stuff that's happening in jazz, and between one thing and another we really enjoyed playing together, and decided to make it a working trio! We've started by recording this CD, which we recorded in Denmark. I'm very happy with it musically, the music is all rhythmically involved, but it doesn't feel at all like an exercise, there are some really nice grooves on it. The CD features material by all three of us, and I'm very happy with the way it turned out and how it sounds. Looking forward to gigging it next year. You can hear it and buy it HERE 
And I'm delighted to announce that I'll be recording my new CD in the new year with a great line up – Dave Binney on saxophones, Tom Rainey on drums, and my son Chris on guitar. It will be a CD of all original material and I have great expectations of it on a musical level, featuring as it does such wonderful musicians!.
If you're interested in hearing more of my music, past and present, don't forget that I'm on Soundcloud and I post stuff there on a regular basis, I also have a Youtube channel – jazzer4 – on which I often add video from current and past performances. You can also connect with me on Facebook and of course here. Thanks for the interest in the music please don't hesitate to get in touch with me through my website should you feel like it – I'm always happy to be in touch. Thanks!
Ronan