Hi Everyone
 It's been a long time since I updated (hopefully) interested parties with what's been going on and what's coming up over the next few months. So if you'll indulge me over the next few paragraphs I will do precisely that. 
Recent Activities
The past several months have been busy with travelling, writing, teaching and performing. Towards the end of last year I toured with the great David Liebman, did workshops in Kobe in Japan and at the Paris Conservatoire, as well performing with my group Lingua Franca at the 'Jazzy Colors' festival in Paris. January saw the first performance of 'Hands', my Concerto for Electric Guitar and Orchestra', featuring the great American guitarist Rick Peckham and the RTE National Symphony Orchestra. It was a huge project for me, and it went very well – we had two performances in the same week, which was very helpful, as it's always easier the second time! The first part of 2012 saw me in Germany, India, Spain, Austria (for the IASJ conference), France (for rehearsals of my new piece for 12 saxophones, performed by the European Saxophone Ensemble), Sweden (for the IRSA rhythm conference), and Portugal, where I did my first performance in over 20 years at the legendary Hot Clube de Portugal in Lisbon – a welcome return for me to a great venue where I performed many times in the early part of my career.
 Upcoming Events
 Composing
The second half of the year promises to be at least as busy as the first and I'm really looking forward to the many creative projects with which I'll be involved over the next few months. First up is the writing of a bunch of new music, starting with a piece for the Dublin City Jazz Orchestra, commemorating the great Irish jazz pianist Noel Kelehan. This will be performed in November and I feel privileged to be able to honour Noel in this way.
Next up will be the writing of a large scale piece called 'Joyce in Dublin and Paris', which will use music mentioned in the works Joyce wrote while living in these two cities, as jumping off points for new compositions. It will feature a mixed group of French and Irish musicians, with myself Dominique Pifarely, Michael Buckley, Stéphane Payen and Christophe Lavergne taking part. Text and audio will also be used as part of the overall work, and it will be performed in Dublin in March 2013, and in Paris in June.
 Performing
At the end of August I'll be performing with 3G in Meeting House Square in Dublin, and In the autumn I'll be performing Europe, the UK and Japan as part of the great Finnish alto player Pekka Pylkkanen's  group – really looking forward to developing the music over the touring period of October and November. I'll post exact dates as they're confirmed.  Then in November I'm delighted to be performing with one of the greatest pianists in contemporary jazz, Kenny Werner. Kenny and I will be doing a series of duo concerts in Ireland and I'm thrilled to have the chance to play with Kenny again – dates are in my calendar.
New CD Release!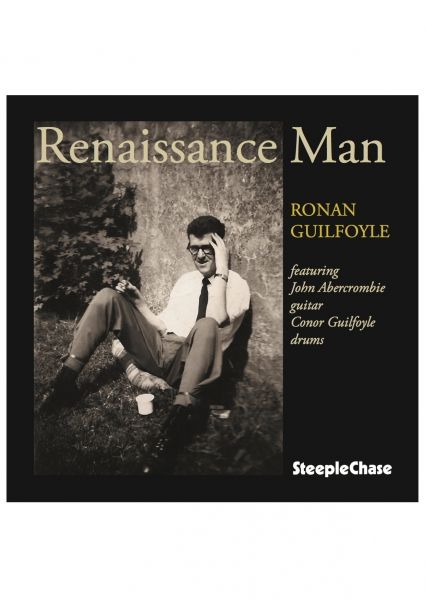 On the recording front, the big news is that my new CD 'Renaissance Man' will be coming out on Steeplechase records, on the their new 'Lookout' imprint. This recording features the legendary John Abercrombie on guitar, my brother Conor on drums, and a string quartet. The music, a 6 movement suite for guitar trio and string quartet,  was written to commemorate my father Brendan, who was directly responsible for both Conor and I becoming musicians. It was an important personal project for me, and I was happy with the way it turned out and with the phenomenal performance of the musicians. In this day and age, when it's incredibly difficult to get anything released, I'm delighted to have this out on an international label which is widely distributed. When the release date is confirmed I'll let you all know.
 In other news I've entered the Soundcloud domain and will be posting stuff there on a regular basis, I also have a Youtube channel on which I often add video from current and past performances. I'm constantly adding pieces to my blog also, so maybe you might be interested in checking that out. You can also connect with me on Facebook and of course here. Thanks for the interest in the music please don't hesitate to get in touch with me through my website should you feel like it – I'm always happy to be in touch. Thanks!
Ronan